Research Topics & Ideas: CompSci & IT
50+ Computer Science Research Topic Ideas To Fast-Track Your Project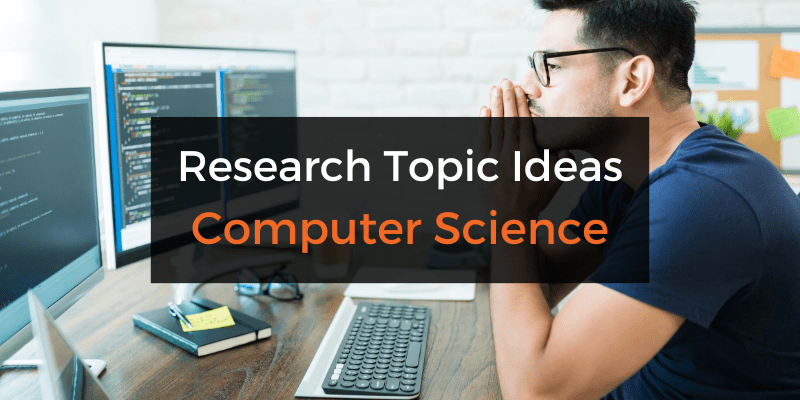 Finding and choosing a strong research topic is the critical first step when it comes to crafting a high-quality dissertation, thesis or research project. If you've landed on this post, chances are you're looking for a computer science-related research topic, but aren't sure where to start. Here, we'll explore a variety of CompSci & IT-related research ideas and topic thought-starters, including algorithms, AI, networking, database systems, UX, information security and software engineering.
NB – This is just the start…
The topic ideation and evaluation process has multiple steps. In this post, we'll kickstart the process by sharing some research topic ideas within the CompSci domain. This is the starting point, but to develop a well-defined research topic, you'll need to identify a clear and convincing research gap, along with a well-justified plan of action to fill that gap.
If you're new to the oftentimes perplexing world of research, or if this is your first time undertaking a formal academic research project, be sure to check out our free dissertation mini-course. In it, we cover the process of writing a dissertation or thesis from start to end. Be sure to also sign up for our free webinar that explores how to find a high-quality research topic. 
Topics/Ideas: Algorithms & Data Structures
An analysis of neural network algorithms' accuracy for processing consumer purchase patterns
A systematic review of the impact of graph algorithms on data analysis and discovery in social media network analysis
An evaluation of machine learning algorithms used for recommender systems in streaming services
A review of approximation algorithm approaches for solving NP-hard problems
An analysis of parallel algorithms for high-performance computing of genomic data
The influence of data structures on optimal algorithm design and performance in Fintech
A Survey of algorithms applied in internet of things (IoT) systems in supply-chain management
A comparison of streaming algorithm performance for the detection of elephant flows
A systematic review and evaluation of machine learning algorithms used in facial pattern recognition
Exploring the performance of a decision tree-based approach for optimizing stock purchase decisions
Assessing the importance of complete and representative training datasets in Agricultural machine learning based decision making.
A Comparison of Deep learning algorithms performance for structured and unstructured datasets with "rare cases"
A systematic review of noise reduction best practices for machine learning algorithms in geoinformatics.
Exploring the feasibility of applying information theory to feature extraction in retail datasets.
Assessing the use case of neural network algorithms for image analysis in biodiversity assessment
Topics & Ideas: Artificial Intelligence (AI)
Applying deep learning algorithms for speech recognition in speech-impaired children
A review of the impact of artificial intelligence on decision-making processes in stock valuation
An evaluation of reinforcement learning algorithms used in the production of video games
An exploration of key developments in natural language processing and how they impacted the evolution of Chabots.
An analysis of the ethical and social implications of artificial intelligence-based automated marking
The influence of large-scale GIS datasets on artificial intelligence and machine learning developments
An examination of the use of artificial intelligence in orthopaedic surgery
The impact of explainable artificial intelligence (XAI) on transparency and trust in supply chain management
An evaluation of the role of artificial intelligence in financial forecasting and risk management in cryptocurrency
A meta-analysis of deep learning algorithm performance in predicting and cyber attacks in schools
Topics & Ideas: Networking
An analysis of the impact of 5G technology on internet penetration in rural Tanzania
Assessing the role of software-defined networking (SDN) in modern cloud-based computing
A critical analysis of network security and privacy concerns associated with Industry 4.0 investment in healthcare.
Exploring the influence of cloud computing on security risks in fintech.
An examination of the use of network function virtualization (NFV) in telecom networks in Southern America
Assessing the impact of edge computing on network architecture and design in IoT-based manufacturing
An evaluation of the challenges and opportunities in 6G wireless network adoption
The role of network congestion control algorithms in improving network performance on streaming platforms
An analysis of network coding-based approaches for data security
Assessing the impact of network topology on network performance and reliability in IoT-based workspaces
Topics & Ideas: Database Systems
An analysis of big data management systems and technologies used in B2B marketing
The impact of NoSQL databases on data management and analysis in smart cities
An evaluation of the security and privacy concerns of cloud-based databases in financial organisations
Exploring the role of data warehousing and business intelligence in global consultancies
An analysis of the use of graph databases for data modelling and analysis in recommendation systems
The influence of the Internet of Things (IoT) on database design and management in the retail grocery industry
An examination of the challenges and opportunities of distributed databases in supply chain management
Assessing the impact of data compression algorithms on database performance and scalability in cloud computing
An evaluation of the use of in-memory databases for real-time data processing in patient monitoring
Comparing the effects of database tuning and optimization approaches in improving database performance and efficiency in omnichannel retailing
Topics & Ideas: Human-Computer Interaction
An analysis of the impact of mobile technology on human-computer interaction prevalence in adolescent men
An exploration of how artificial intelligence is changing human-computer interaction patterns in children
An evaluation of the usability and accessibility of web-based systems for CRM in the fast fashion retail sector
Assessing the influence of virtual and augmented reality on consumer purchasing patterns
An examination of the use of gesture-based interfaces in architecture
Exploring the impact of ease of use in wearable technology on geriatric user
Evaluating the ramifications of gamification in the Metaverse
A systematic review of user experience (UX) design advances associated with Augmented Reality
A comparison of natural language processing algorithms automation of customer response Comparing end-user perceptions of natural language processing algorithms for automated customer response
Analysing the impact of voice-based interfaces on purchase practices in the fast food industry
Topics & Ideas: Information Security
A bibliometric review of current trends in cryptography for secure communication
An analysis of secure multi-party computation protocols and their applications in cloud-based computing
An investigation of the security of blockchain technology in patient health record tracking
A comparative study of symmetric and asymmetric encryption algorithms for instant text messaging
A systematic review of secure data storage solutions used for cloud computing in the fintech industry
An analysis of intrusion detection and prevention systems used in the healthcare sector
Assessing security best practices for IoT devices in political offices
An investigation into the role social media played in shifting regulations related to privacy and the protection of personal data
A comparative study of digital signature schemes adoption in property transfers
An assessment of the security of secure wireless communication systems used in tertiary institutions
Topics & Ideas: Software Engineering
A study of agile software development methodologies and their impact on project success in pharmacology
Investigating the impacts of software refactoring techniques and tools in blockchain-based developments
A study of the impact of DevOps practices on software development and delivery in the healthcare sector
An analysis of software architecture patterns and their impact on the maintainability and scalability of cloud-based offerings
A study of the impact of artificial intelligence and machine learning on software engineering practices in the education sector
An investigation of software testing techniques and methodologies for subscription-based offerings
A review of software security practices and techniques for protecting against phishing attacks from social media
An analysis of the impact of cloud computing on the rate of software development and deployment in the manufacturing sector
Exploring the impact of software development outsourcing on project success in multinational contexts
An investigation into the effect of poor software documentation on app success in the retail sector
CompSci & IT Dissertations/Theses
While the ideas we've presented above are a decent starting point for finding a CompSci-related research topic, they are fairly generic and non-specific. So, it helps to look at actual dissertations and theses to see how this all comes together.
Below, we've included a selection of research projects from various CompSci-related degree programs to help refine your thinking. These are actual dissertations and theses, written as part of Master's and PhD-level programs, so they can provide some useful insight as to what a research topic looks like in practice.
An array-based optimization framework for query processing and data analytics (Chen, 2021)
Dynamic Object Partitioning and replication for cooperative cache (Asad, 2021)
Embedding constructural documentation in unit tests (Nassif, 2019)
PLASA | Programming Language for Synchronous Agents (Kilaru, 2019)
Healthcare Data Authentication using Deep Neural Network (Sekar, 2020)
Virtual Reality System for Planetary Surface Visualization and Analysis (Quach, 2019)
Artificial neural networks to predict share prices on the Johannesburg stock exchange (Pyon, 2021)
Predicting household poverty with machine learning methods: the case of Malawi (Chinyama, 2022)
Investigating user experience and bias mitigation of the multi-modal retrieval of historical data (Singh, 2021)
Detection of HTTPS malware traffic without decryption (Nyathi, 2022)
Redefining privacy: case study of smart health applications (Al-Zyoud, 2019)
A state-based approach to context modeling and computing (Yue, 2019)
A Novel Cooperative Intrusion Detection System for Mobile Ad Hoc Networks (Solomon, 2019)
HRSB-Tree for Spatio-Temporal Aggregates over Moving Regions (Paduri, 2019)
Looking at these titles, you can probably pick up that the research topics here are quite specific and narrowly-focused, compared to the generic ones presented earlier. This is an important thing to keep in mind as you develop your own research topic. That is to say, to create a top-notch research topic, you must be precise and target a specific context with specific variables of interest. In other words, you need to identify a clear, well-justified research gap.
Fast-Track Your Research Topic
If you're still feeling a bit unsure about how to find a research topic for your Computer Science dissertation or research project, check out our Topic Kickstarter service.