5 Essential Time-Saving Apps For Writing
Your Henley MBA Assignments
No matter how you skin it, writing a Henley MBA assignment is a demanding task. There's a lot you need to achieve in a little bit of time, and within a limited word count. Thankfully, we live in an age where there are various tools, services and apps that can make the process a little easier.
In this article, I'll share 5 essential tools that will help you optimise your process when writing up Henley MBA assignments.
#1: Cloud storage
Before you do anything, make sure you get cloud storage for your academic work.
Somewhere along the line in your Henley MBA, your computer will crash/get stolen/dropped in water, and with that, there's a good chance your work will be lost.
You need cloud storage – that is, storage that is NOT on your computer.
Some options to try out:
Any of these will ensure that your work is safely stored in the cloud, and you'll be able to synchronise across all your devices.
Save your files regularly and save per day's work, so that you have many versions of your work and can easily find something you deleted a while back.
I personally use Dropbox Pro, but all of the options I mentioned are well established in the market and will do the trick.
If you have an Apple device, you'll have an iCloud account, so that could be a good starting point. If you prefer to go device-agnostic, try out Dropbox Basic, which is free.
#2: Evernote + Penultimate (iPad)
During your Henley studies, you will invariably take a lot of notes. Ideas when hit you when you least expect them, and chances are you'll be stuck without something to take a note on, or you'll have a bunch of notes in different places (your phone, your PC, loose papers), which never get organised.
It can be a royal mess. Enter Evernote.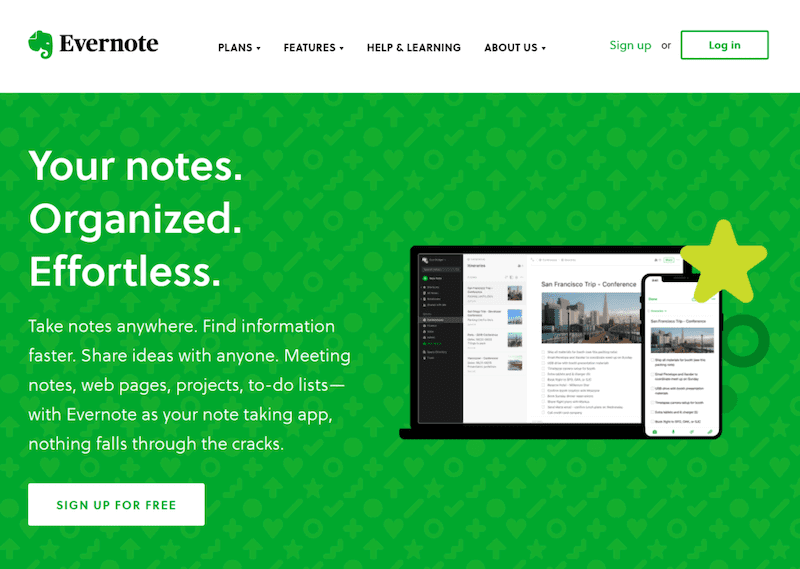 A bit like cloud storage, Evernote allows you to take notes on multiple devices and they all get stored on the cloud and synchronised across devices.
Best of all, you can type traditional text notes, take photos, record audio (thoughts while you're driving, interviews with people) and video (lectures). In other words, you can capture any format, any time.
Now, some of you might be saying "I like to handwrite my notes" – enter Penultimate. This add-on app allows you to write on your iPad and the notes are directly saved to Evernote. It's the best of both offline and online worlds.
Evernote has a free and paid version. The free version has limited functionality and storage, but it's a good starting point. The paid options start around $4 a month or $35 per annum. Give the free option a try and see if you like it.
#3: Dragon Naturally Speaking

If you find yourself on the road or on the move a lot and don't have time to write things down, whether it's just a note, or a section of an assignment, Dragon's Naturally Speaking can be a godsend.
Dragon is essentially a digital dictation software – you speak into it and it converts your voice to digital text. This is great for making notes while you're driving, or even for summarising at home or drafting sections of your assignments.
Naturally, you'll need to go back and clean up the document, polish the formatting, etc – but you can get version one down on paper just by talking. 
Dragon also has an app called Dragon Anywhere, so your iPhone or Android will do the trick whenever you're on the go.
Dragon Naturally Speaking is a paid product. At the time of recording this, the desktop version goes for a once-off fee of $75, while the mobile app goes for $15 a month. If you want to test the waters, try out the app first before committing – you might find this is all you need.
#4: Reference management software
This one should be dead obvious, but I've encountered so many students that are still managing their citations and references manually, that I have to mention it.
If you happen to be one of these people – stop now, and download some form of reference management software to handle your references.
What is a reference manager? As the name suggests, it's a piece of software that stores all your references. You enter the source once, and then you simply click and drop citations into your document as you write. It then builds the full reference list at the end of the exact format that Henley requires (Harvard format).
This ensures that your references are always in the correct format, and saves you a lot of time.
There are numerous options:
They all have their pros and cons. I personally recommend either Zotero or Mendeley because they're both free and easy to use.
Do your research and pick one that works for you.
#5: Grammarly Pro
If you're still relying on Microsoft Word to spot your typos and grammar, this one is for you, because, quite frankly, Word's spell checker stinks… 
So what is it? Grammarly is a web-based service that checks both spelling and grammar in a much more sophisticated way than Word does – beyond simple spell checking, it spots missing articles, repetitive words, contextual errors, it proposes vocabulary improvement, and even style improvements. It's pretty much the closest you can get to an editor and proof-reader without hiring one.
Additionally, Grammarly has a plagiarism checking service, so you can kill two birds with one stone. Avoiding plagiarism is critically important, so this is really valuable.
Grammarly has two versions – a free version (limited basic grammar and spelling checks) and a professional paid version. The plagiarism checker is only included in the paid version, which at the time of recording this, goes for about $12/month on an annual plan.
The free version is rather limited, so I'd really suggest the professional version in this case – but give it a go and see for yourself. 
Let's recap…
And there you have it – 5 essential tools to optimise your writing process for Henley MBA assignments. To recap:
Cloud storage (Dropbox, Google Drive, etc) – for keeping your documents safe.
Evernote & Penultimate – for taking notes anywhere, in any format, any time.
Dragon Naturally speaking – for transcribing your voice to text.
Reference management software – for ensuring 100% perfect citations and referencing – and saving you a lot of time.
Grammarly Pro – for polishing your English.
If you have any recommendations for essential tools, please let us know and we'll add them to the list.